ABZ High Performance Butterfly Valve – ABZolute High Performance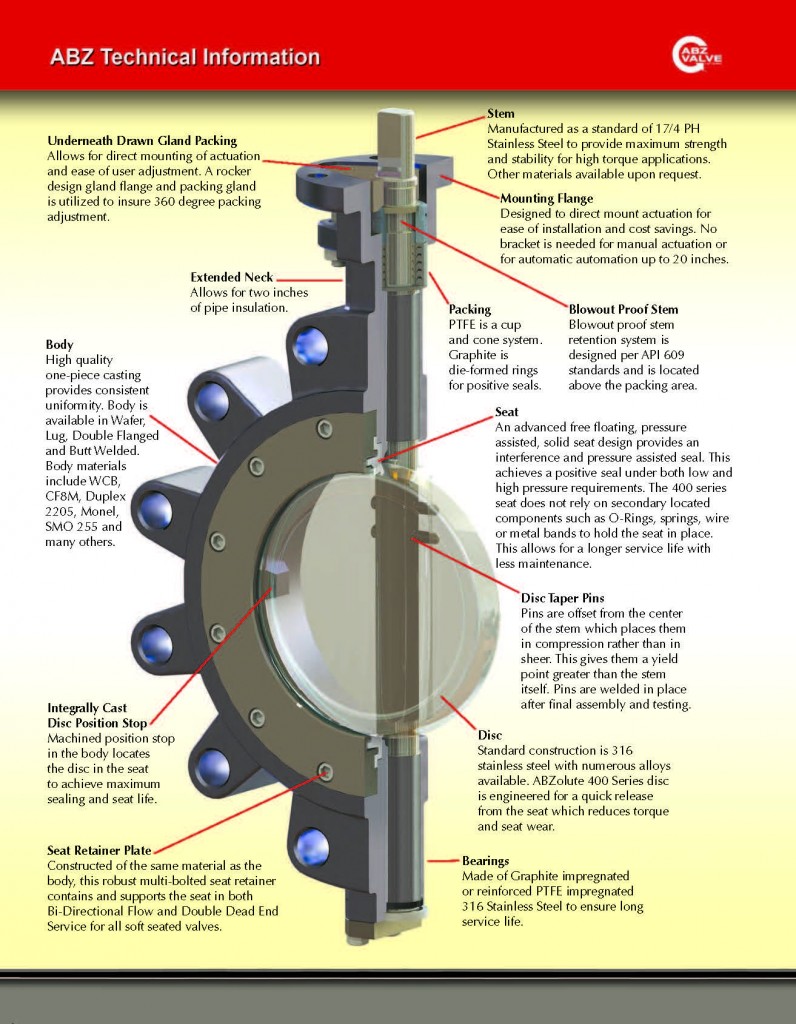 ABZ High Performance Butterfly Valve – Elite High Performance

Underneath Drawn Gland Packing -Allows for ease of user adjustment to the gland nuts and direct mounting of actuation.
Stem Retention System-Provides positive stem retention above the packing.
Mounting Flange-Designed to direct mount actuation for ease of installation and cost saving.
Body is available in Wafer and Lug.
Packing-PTFE is a cup and cone system.
Bearings-Made of 316 stainless steel sleeves impregnated with RTFE to ensure long service life.
Seat Retainer-The heavy-duty retainer plate and cap screws provide a full rated bi-directional dead end service valve. The seat retainer seal prevents leakage to the atmosphere past the retainer plate and body.
Seat-Utilizes a solid soft seat with a unique channel design. This advanced design provides a bi-directional interference and pressure-assisted seal. This achieves maximum seal at low or high pressures while preventing the seat from bending or deflecting downstream.
Disc Taper Pins -Pins are offset from the center of the stem, which places them in compression rather than in sheer. This gives them a yield point greater than the stem itself. Pins are welded in place after final assembly and testing.
Integrally Cast Disc Position Stop -Machined position stop in the body locates the disc in the seat to achieve maximum seat and seal life.
Disk-Cast from 316 Stainless Steel (CF8M -A351), and engineered to allow for quick release from the seat. The disc has a heavy duty low cavitation cross section connection to the stem. This results in lower torques and smoother operations.
Stem-Manufactured of high strength 17-4 PH Stainless Steel to provide maximum strength and stability for high torque applications.
Request a Quote